FAQ
Is it possible to use just one TGS module?

A configuration with a minimum of four TGS modules is required. A single module cannot be used by itself.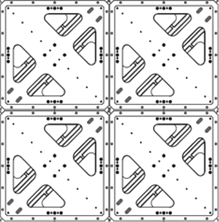 2×2 modules
How should I decide the TGS module configuration?

TGS is a customized product, so the specifications vary according to the specific case. To determine the specifications, create an optimized design based on the installation environment, load shape and weight, floor shape, and other factors, and then determine the module configuration. For details, please contact THK.