THK's Technological Capability
Safety and security are not achieved without "quality".
THK provides you with high-quality earthquake defense.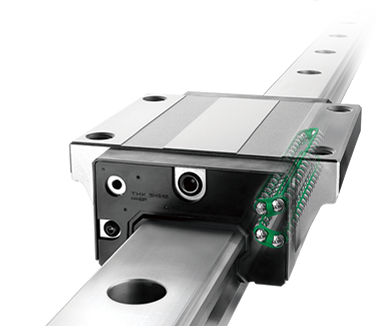 LM guide
THK employs its proprietary technology to achieve rolling of linear motion mechanical parts, which was previously regarded as problematic. In 1972, THK created the world's first Linear Motion Guide (LM Guide). Since then, the mechanical performance of the rolling of the linear motion parts has improved drastically in terms of the accuracy and speed of mechatronics equipment, as well as labor savings. Mounting of THK's LM Guides has enabled machine tools and industrial robots to perform super-precision operations, and has also enabled submicron precision in semiconductor manufacturing equipment. Using its world-renowned technology, THK provides seismic isolation and vibration control with a new anti-seismic infrastructure.
THK technology is actively at work in various fields
The LM Guide has recently been used in LCD production lines, railway cars, welfare vehicles, medical equipment, high-rise buildings and residences, amusement center equipment and more, and its application is virtually endless.
Click here for THK seismic isolation case studies

View the catalog
Mechanical Seismic Isolation Devices (Modular)
Protect your vital machinery and keep your business running.
This device provides sectional seismic isolation for a variety of uses, from all floor isolation for data centers, server rooms, operation centers and other areas to individual installations for manufacturing equipment and measurement devices.
* Modules may be freely connected together to handle any size/shape of load.
* Earthquake response analysis is used to provide suggestions on the best seismic isolation for the area, including deployment size and number of floors.
* Load weight support (max 3000 kgf/m2)
* For evenly distributed weights. Discussion required for concentrated loads.

THK module seismic isolation
Click here for details of THK's model TGS seismic isolation module

View the catalog
Mechanical Seismic Isolation Devices (Table)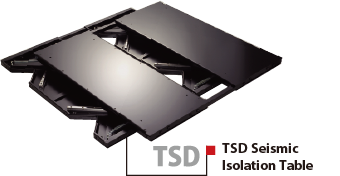 Easy installation protects your vital assets
from earthquake motion.
These devices protect small-scale server racks and measurement devices, as well as sculptures, Buddhist statues and other works of art. Individual tables can be connected and installed together, and installation can be as simple as placing it on the floor.
* Simple installation — just place on the floor, no construction required.
* Easy expansion by linking tables together.
* Load weight support (30–1200 kgf)
THK's table seismic isolation
Click here for details of THK's model TSD seismic isolation table

View the catalog