What is mechanical seismic isolation?
Protecting works of art and other socially important assets, as well as servers and other equipment
from earthquake damage by separating them from the shaking building floor.
Seismic isolation is an ideal countermeasure for protection against earthquake damage to valuable equipment and socially important assets, such as important cultural assets and works of art. It employs a seismic isolation device to separate the item you wish to protect from the floor of the building, and suppress violent ground motion transferred to that item. This earthquake countermeasure is significantly more affordable than building seismic isolation and can be implemented quickly and easily.
Seismic isolation for the whole floor

Click here for THK's model TGS seismic isolation module catalog and details about floor seismic isolation

View the catalog
Pinpointed seismic isolation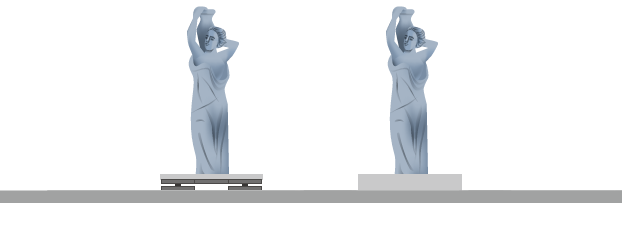 Click here for THK's model TSD seismic isolation module catalog and details about pinpoint seismic isolation

View the catalog
Advantages of using seismic isolation devices
Reduces shaking to the mounted device during an earthquake.
Minimizes damage to the mounted device.
Protects from injury due to falling objects, and prevents blocking of evacuation routes.
Business operation can be quickly resumed after an earthquake.
What seismic isolation devices protect
Mechanical seismic isolation securely protects valuables such as precision equipment and works of art. Partial seismic isolation is available according to the application. It is ideal for facilities including data centers, research offices, medical facilities, and art museums.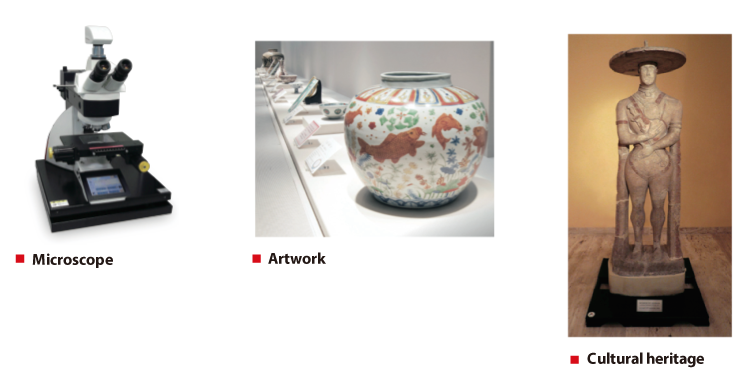 Customer Testimonials

Attracted by reliable performance backed up by demonstration testing
Meiwa Hospital
Information technology has spread throughout our society. In recent years, the medical industry has also seen rapid developments in IT, with electronic health record systems, management of CT, MRI, and other diagnostic images, as well as incoming patient treatment plans, surgery instructions, and consent forms in electronic format. These large volumes of data are stored on servers. It's no exaggeration to say that if these servers were damaged during a major earthquake or other disaster, virtually all medical activity would come to a halt. What's more, the electronic health records contain patients' personal information, and it is our responsibility to appropriately safeguard that information. Test data and images are required in order to obtain informed consent from patients for surgical procedures, and if something should happen, the hospital might be required by a court to submit this data. As a medical facility that provides healthcare for the community, we must safeguard our servers at all costs, for the sake of our patients and to ensure the sound running of the hospital.
Our city of Nishinomiya still has painful memories of the Great Hanshin-Awaji Earthquake, which occurred 20 years ago. Considering the reality that we've continued to face major earthquakes, including the Chuetsu and Great East Japan earthquakes, we have to take preventive measures on the basis that large seismic events are unavoidable.
We chose THK's seismic isolation system to protect our servers because we were shown the results of a demonstration test in which servers were securely protected, using the same seismic waves as those observed during the Great East Japan Earthquake. Everything was handled quickly, from the signing of the contract to delivery, and the system was installed with great attention to detail. The process went very smoothly, from the protective measures at delivery and pre-installation preparations to the actual installation and cleanup. We were really impressed with the quality of the work carried out within the limited timeframe.
I used to jump at the smallest of tremors and repeatedly ask the security guard on duty how much shaking there was. Now that I've seen concrete data demonstrating that THK's seismic isolation system can withstand earthquakes as powerful as the Great East Japan Earthquake, I feel very reassured.
(From THK CSR report 2015)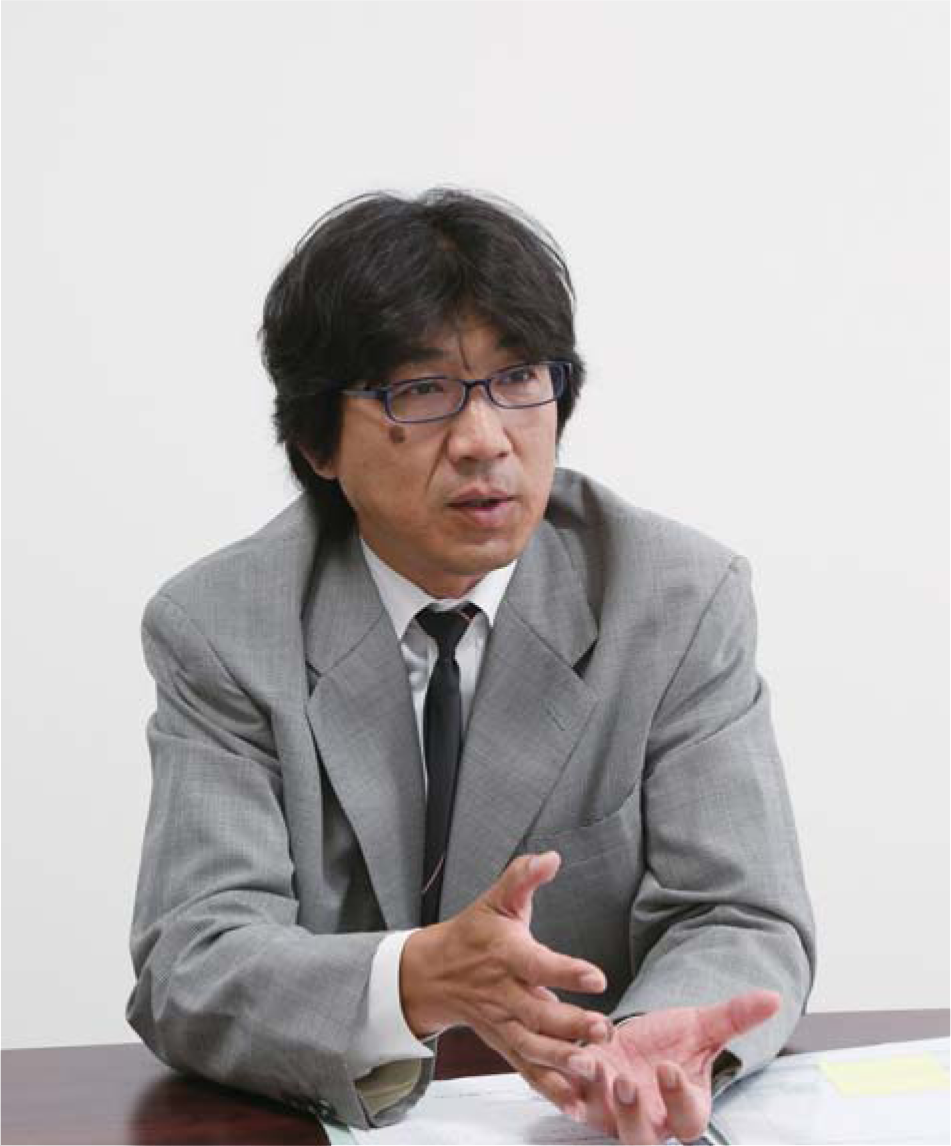 Akinobu Kitagawa, Manager, Information Service Division, Business Planning Office and Business Affairs Department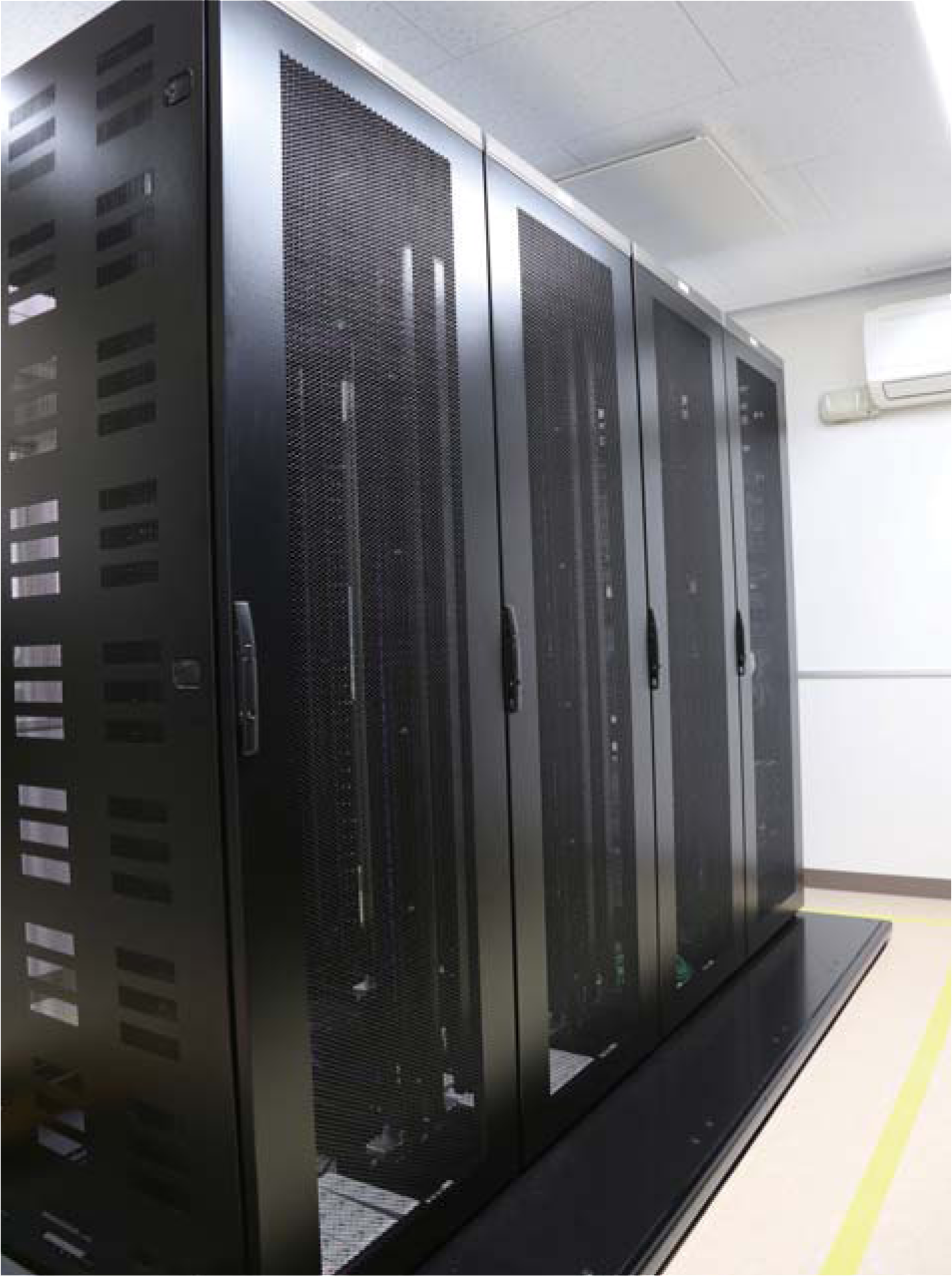 Ensuring the safety of important cultural property—Unkei's Buddhist sculptures— even in a major earthquake
Tenshukunzan Ganjojuin
At the Ganjojuin Buddhist temple, located in the city of Izunokuni in Shizuoka Prefecture, we have five images of Buddha that are authentic works of the master sculptor Unkei, who created these in the Kamakura period (1185-1333) when he was about 35 years old and still in his prime. These statues, which include a seated image of Amida, have all been designated as important cultural properties of Japan, so keeping them safe in the event of a major earthquake was a matter of great concern. The statues have tenons to hold them to their pedestals and keep them from falling over, but this alone didn't seem enough, so together with our temple patrons, we set out to find a more effective way to protect the statues and put our minds at ease. We considered safeguarding the statues in the storehouse because of their artistic value, but we wouldn't be able to light candles or even burn incense inside the storehouse. Then, through a design company, we heard about THK's seismic isolation system and watched a video on the effects of seismic isolation. At a housing expo in Shizuoka, I experienced a seismic isolation simulator and realized that this seismic isolation could help prevent damage to the statues, so we decided to seismically reinforce the temple hall and dais with steel bars and plates, and then we installed the seismic isolation devices under the statues. At the time of the Suruga Bay earthquake, the foundation work was still being laid and the seismic isolation devices were not yet installed, but fortunately, the tremors were less intense in this area and didn't cause any damage. We have now completed installation of the seismic isolation devices, and our minds are at ease.
(From THK CSR report 2010)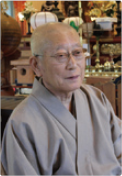 Shodo Kozaki
Chief Priest
Tenshukunzan Ganjojuin

Grateful for quality of seismic isolation devices as well as responsiveness
Citizen Machinery Miyano Co., Ltd.
We have had a long working relationship with THK: over 90% of our machine tools use THK LM Guides, and our two companies hold engineer exchange meetings at which our engineers can exchange views. This was our very first time using a seismic isolation device, but because THK products are highly reliable, we had no doubts about the product quality. Because the installation of the seismic isolation device would coincide with the migration of a 3D measuring instrument from another plant, the installation period was limited, and it took a while to obtain internal approval. Even so, the THK team patiently awaited our response and completed the installation of the seismic isolation device within a very short timeframe, so we're very grateful for their flexibility. The 3D measuring instrument protected by the seismic isolation device is used to perform final inspections on in-house jigs. An earthquake affects the precision of the equipment, requiring recalibration each time, and this can be very costly. The calibration work can take around a week, so we're happy that we installed the seismic isolation system, both in terms of the cost and performance.
(From THK CSR report 2013)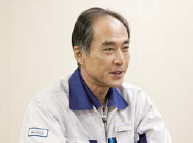 Kenji Aoki, Kitakami Office Manager
Operating Officer and Senior General Manager, Production Division, Miyano Company
Citizen Machinery Miyano Co., Ltd.
Kitakami, Iwate Prefecture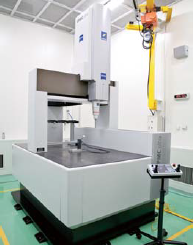 3D measuring instrument fitted with seismic isolation device